This is a night view of Copenhagen, Denmark. The postcard says "Aftenstemning i Nyahvn" what means "Nyhavn by night". Nyhavn, the recreational center Of Copenhagen is part of the original Copenhagen Harbor all the way back to the founding of Haven, as Copenhagen was then called, in the 12th century.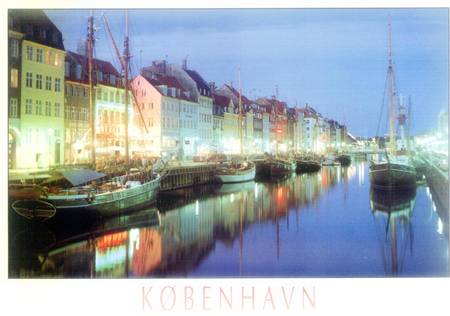 Nyhavn docks were constructed in 1670 as an encouragement to trade and shipping, with a new canal going from the harbour of Copenhagen to Kongens Nytorv. Today, this side of Nyhavn has become fashionable. The quay has been turned into a pedestrian street and the harbour basin has been opened for old sailing ships. Excellent restaurants and cafes have opened; and especially in the summer, the quay is crowded with people having a good time.
Satellite view of Copenhagen. Read more about this location.
Nyhavn – Copenhagen, Denmark